Look at the ages of the kids: 10-15 YEARS OLD!!  Honestly, who do they hang out with and what kind of upbringing do they have?
A game reviewer who found herself receiving online rape threats had come up with an inspiring way of dealing with her trolls.
Tweeting to her 13,000 followers, Alanah Pearce explained: "Sometimes young boys on Facebook send me rape threats, so I've started telling their mothers."
She accompanied the tweet with a screengrab of one of the conversations she claims to have had with one mother.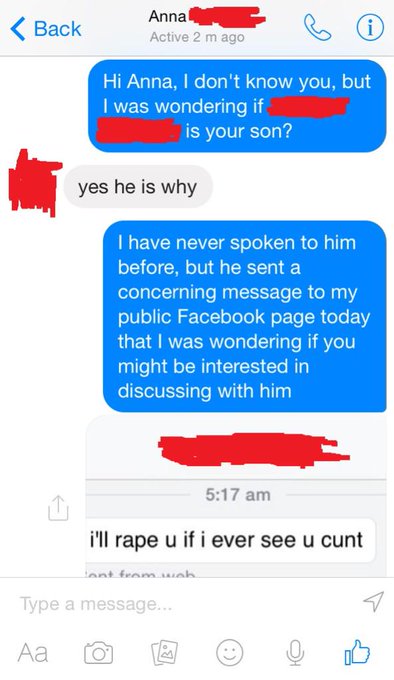 She asks: "Hi Anna, I don't know you, but I was wondering if XXXXXX [name redacted] XXXXX is your son?"
Anna replies: "Yes he is why?"
Pearce, who also has her own YouTube channel, explains: "I have never spoken to him before, but he sent a concerning message to my public Facebook page today that I was wondering if you might be interested in discussing with him."
Pearce includes a screenshot of the said message, which simply reads: "I'll rape u if I ever see u cunt."
Anna's response? "omg little shit. IM SO SORRY. YES I WILL TALK TO HIM."
Pearce, who appears on digital TV show Button Bash, revealed she had sent three other similar messages but that so far has received only one reply, adding: "As far as I can tell, they didn't get/ read my messages."
When asked just how she managed to unearth contact details for the women she had messaged, she explained: "Super easy to do just by looking at their profiles."
The abuse female gamers receive has been in the spotlight since the #Gamergate controversy, which has rocked the community since August.
The conversation continues to divide gamers calling for journalistic integrity within the gaming industry and those who believe #Gamergate is merely a misogynistic movement aimed at alienating female gamers.
Pearce told the Guardian: "A while ago, I realised that a lot of people who send disgusting or overly sexual comments to me over the internet aren't adult males.
"It turns out that mostly they're young boys and the problem is they don't know any better, so responding to them rationally didn't resolve the situation. And it got to the point where their comments were starting to make me feel really uncomfortable."
At time of publication, Pearce's tweet had been favourited 24,000 times in just 12 hours and retweeted 14,000 times.
She added: "It was just a way to try to reach a resolution, to productively teach young boys it's not okay to be sexist to women, even if they're on the internet, that they are real people and that there should be actual consequences for that."
[
HUFFINGTON POST
]